MikroTik RouterBOARD 750UP

Five Ethernet ports SOHO router in a nice plastic case, USB 2.0 port and PoE output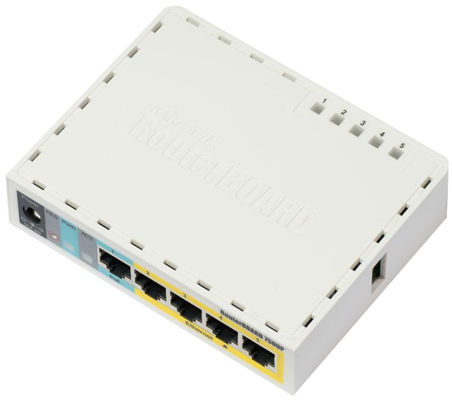 Overview:
5 x Ethernet with PoE output for all ports
USB 2.0 port
400MHz CPU
32MB RAM
RouterOS L4
RB750UP is a small five port ethernet router in a nice plastic case, USB 2.0 port and PoE output. Ports 2-5 can power other PoE capable devices with the same voltage as applied to the unit. Less power adapters and cables to worry about! Max current is 500mA per port, Ethernet ports are shielded.
It is affordable, small, good looking and easy to use - It's probably the most affordable MPLS capable router on the market. No more compromise between price and features - RB750 series has both.
With it's compact design and clean looks, it will fit perfectly into any SOHO environment.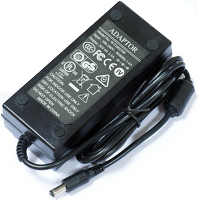 Included 24V 2.5A power adapter
Specifications:
RB750UP Specifications
CPU
AR7241 400MHz CPU
Memory
32MB DDR SDRAM onboard memory
Boot loader
RouterBOOT
Data storage
64MB onboard NAND memory chip
Ethernet
Five 10/100 Mbit/s Fast Ethernet ports with Auto-MDI/X.
Hardware switch chip and port mirror support. Shielded connectors.
miniPCI
none
Extras
One USB 2.0 port, Reset switch
Serial port
no serial port
LEDs
Power, NAND activity, 5 Ethernet LEDs
Power options
PoE: 8-30V DC on Ether1 (Non 802.3af). Jack: 8-30V DC
Power output
Supports PoE output on ports 2-5. Max current 500mA per port
Dimensions
113 x 89 x 28mm
Weight
130g without packaging and cables
Power consumption
Up to 3W
Operating temperature
-30C to +60C
Operating System
MikroTik RouterOS, Level4 license
Box contains

RB750UP
plastic case
24v 2.5A power adapter
Performance Test Results:
Performance Test Results
RB750UP (400Mhz)
100M port test
RouterOS
Model
Configuration
64 byte
512 byte
1518 byte
kpps
Mbps
kpps
Mbps
kpps
Mbps
Bridging
none (fast path)
194.0
127.3
117.0
496.1
40.3
495.2
Bridging
25 bridge filter rules
53.7
35.2
52.3
221.9
40.3
495.2
Routing
none (fast path)
183.7
120.5
117.0
496.1
40.3
495.2
Routing
25 simple queues
92.8
60.8
88.5
375.1
40.3
495.2
Routing
25 ip filter rules
37.5
24.6
38.4
162.6
37.6
462.4