MikroTik RouterBOARD 1100AHx2

13-port Gigabit Ethernet router with dual core CPU

Sorry, this product is no longer available, please contact us for a replacement.
Click here to jump to more pricing!
Overview:
1U rackmount
13x Gigabit Ethernet
1066MHz Dual Core CPU
2GB RAM
RouterOS L6
RB1100AHx2 is 1U rackmount Gigabit Ethernet router - with a dual core CPU, it can reach up to a million packets per second and supports hardware encryption!
It has thirteen individual gigabit Ethernet ports, two 5-port switch groups, and includes Ethernet bypass capability. 2GB of SODIMM RAM are included, there is one microSD card slot, a beeper and a serial port.
The RB1100AHx2 comes preinstalled in a 1U aluminium rackmount case, power supply and power plug, assembled and ready to deploy.
Block Diagram: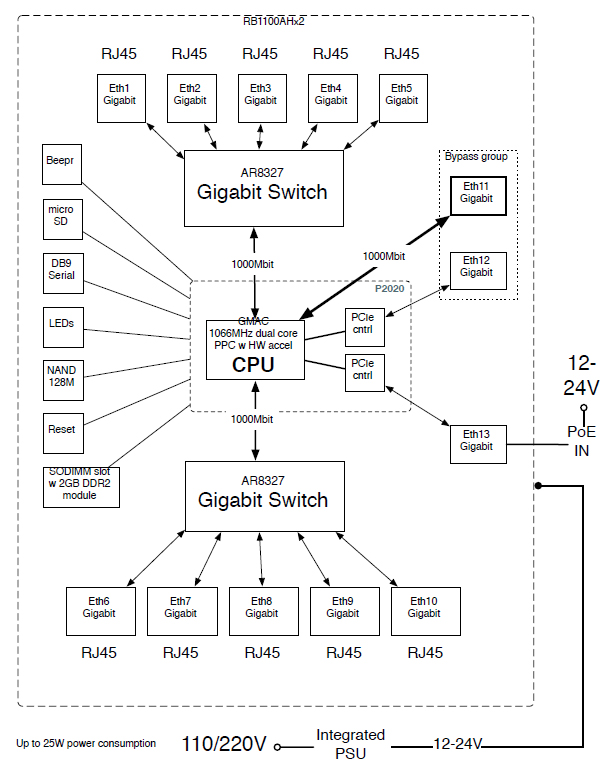 Specifications:
RB1100AHx2 Specifications
CPU
PowerPC P2020 dual core 1066MHz network CPU with IPsec accelerator
Memory
SODIMM DDR Slot, 2GB installed (RouterOS will use only up to 1.5GB)
Boot loader
RouterBOOT, 1Mbit Flash chip
Data storage
Onboard NAND memory chip, one microSD card slot
Ethernet
Thirteen 10/100/1000 Mbit/s Gigabit Ethernet with Auto-MDI/X
Includes switch to enable Ethernet bypass mode in two ports
miniPCI
none
Serial port
One DB9 RS232C asynchronous serial port
Extras
Reset switch, beeper, voltage and temperature sensors
Power options
Built-in power supply (IEC C14 standard connector 110/220V), PoE (12-24V on port 13)
Fan
Built in fans, and Fan headers
Dimensions
44 x 176 x 442 mm
Weight
1275g. Board only: 365g
Power consumption
Up to 3W
Operating temperature
-30C to +60C
Operating System
MikroTik RouterOS, Level 6 license
Box contains

RB1100AHx2
power supply
IEC cord
Rack ears (aluminum)
Screw and feet kit (K10)
Performance Test Results:
Performance Test Results
RB1100AHx2 (600Mhz)
All port test
RouterOS
Model
Configuration
64 byte
512 byte
1518 byte
kpps
Mbps
kpps
Mbps
kpps
Mbps
Bridging
none (fast path)
1,690.0
1,108.6
704.0
2,985.0
406.0
4,988.9
Bridging
25 bridge filter rules
412.0
270.3
396.0
1,679.0
308.0
3,784.7
Routing
none (fast path)
1,495.0
980.7
704.0
2,985.0
345.0
4,239.4
Routing
25 simple queues
654.0
429.0
616.0
2,611.8
258.0
3,170.3
Routing
25 ip filter rules
278.0
182.4
262.0
1,110.9
243.0
2,986.0
Pricing and product availability subject to change without notice.